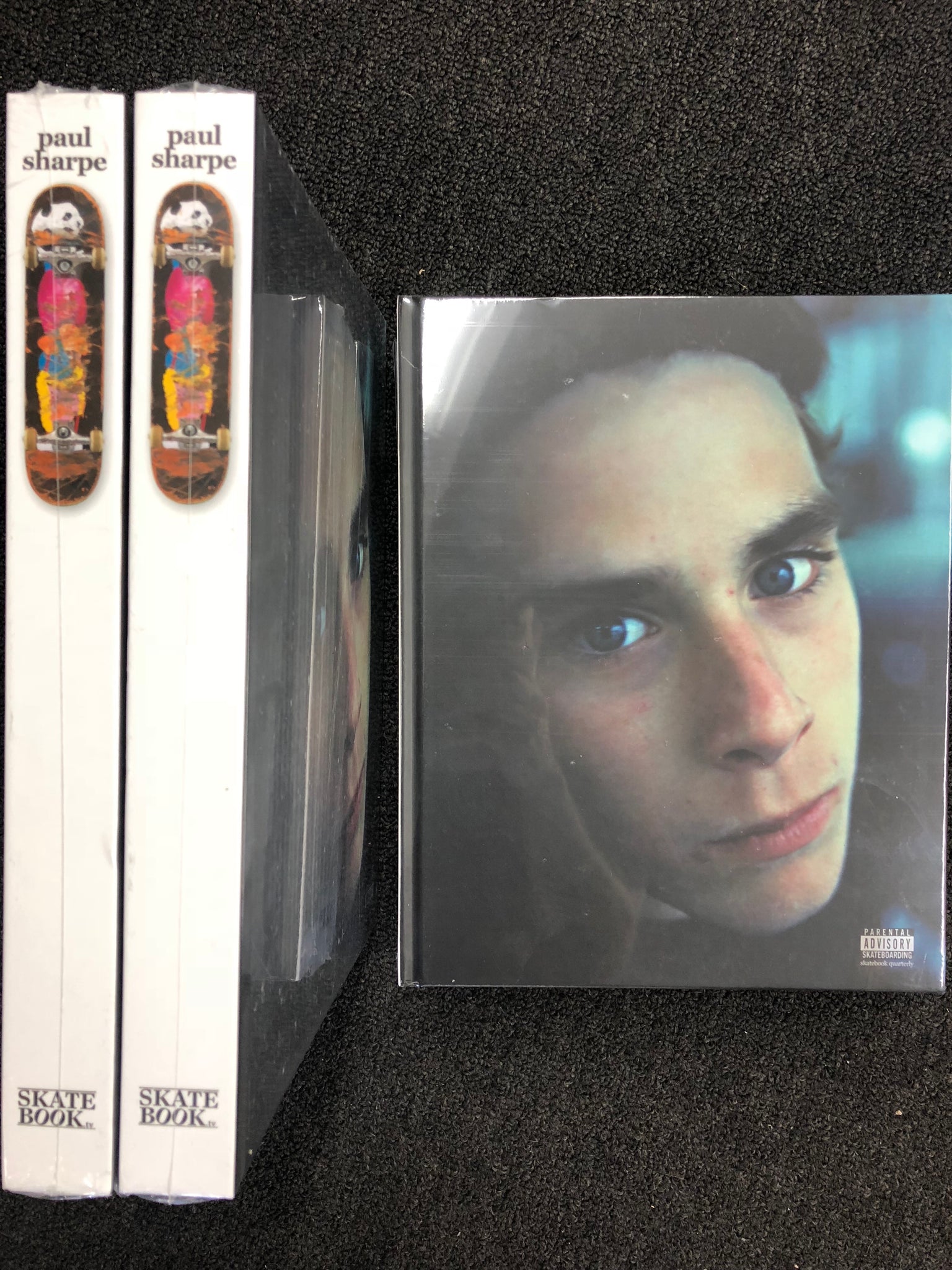 Skatebook Paul Sharpe John Cardiel Cover
Synopsis

Skatebook2 The Paul Sharpe volume is a hard cover coffee table book featuring iconic skateboarding images from the past and present. The book is broken up into 13 separate chapters. 1. Stevie Williams (from the ghetto to top professional) 2. A a camera from Marc photographer Jai Tanju (features images from Jai Tanju's book. The pictures were taken with a camera given to Jai, by 2007 Thrasher Magazine Skater of the Year Marc Johnson) 3. Simon Woodstock (Focuses on the skater single handedly responsible for the dawn of the jackass era) 4. Supply and demand The art of Shepard Fairey (Journey through highlighted pages of Supply and Demand that tie Shepard back to skateboarding culture and art.) 5. Wassup rockers (features the skaters featured in Larry Clark's film WASSUP ROCKERS. An inspirational piece about kids who shunned gang banging to ride skateboards instead.) 6. Lennie Kirk (A true enigma and charismatic icon in skateboarding this chapter focuses on ground breaking and never seen before images of Lennie Kirk) 7. Steve Caballero (undoubtedly one of skateboarding's royalty this chapter juxtaposes images from a career that spans over 3 decades) 8. James Kelch ( a sometimes overlooked and over shadowed icon James Kelch ruled the tough street of San Francisco during the early 90's and was the official mayor of Justin Herman Plaza otherwise known as EMB. A trip down memory lane) 9. Ben Schroeder (known for annihilating any terrain, this chapter features one of skateboarding biggest skaters literally. Ben is 6'8 and a force to be reckoned with 10. Jim Greco Death wish (chronicles the life and times of a contemporary Jim Greco. This chapter features the icon of flair and hyjink) 11. Polyurethane Monthly (this chapter features notorious editor at large Tom Schmidt zine that he started back in Nebraska before his rise at Big Brother magazine) 12. Jon Humphries (Burnside in Portland, Oregon is a true testament of the DIY attitude that permeates throughout skateboarding. Jon Humphries show us some fine examples of candid happenings around the park. 13. John Cardiel (one of the greatest of all times John Cardiel is the true embodiment of the rawness of skateboarding and of being able to adapt and destroy any terrain in his path. Also a Thrasher Magazine Skater of the Year this chapter salutes one of the most raw and purest skaters of all time.

Product Identifiers

ISBN-10
0982111614
ISBN-13
9780982111611
eBay Product ID (ePID)
70973527

Key Details

Author
Mike Ballard, Salman Agah
Number Of Pages
100 pages
Format
Paperback
Publication Date
2015-02-25
Language
English
Publisher
Skatebook
Publication Year
2015

Dimensions

Weight
12 Oz
Height
1 In.
Width
6 In.
Length
9 In.